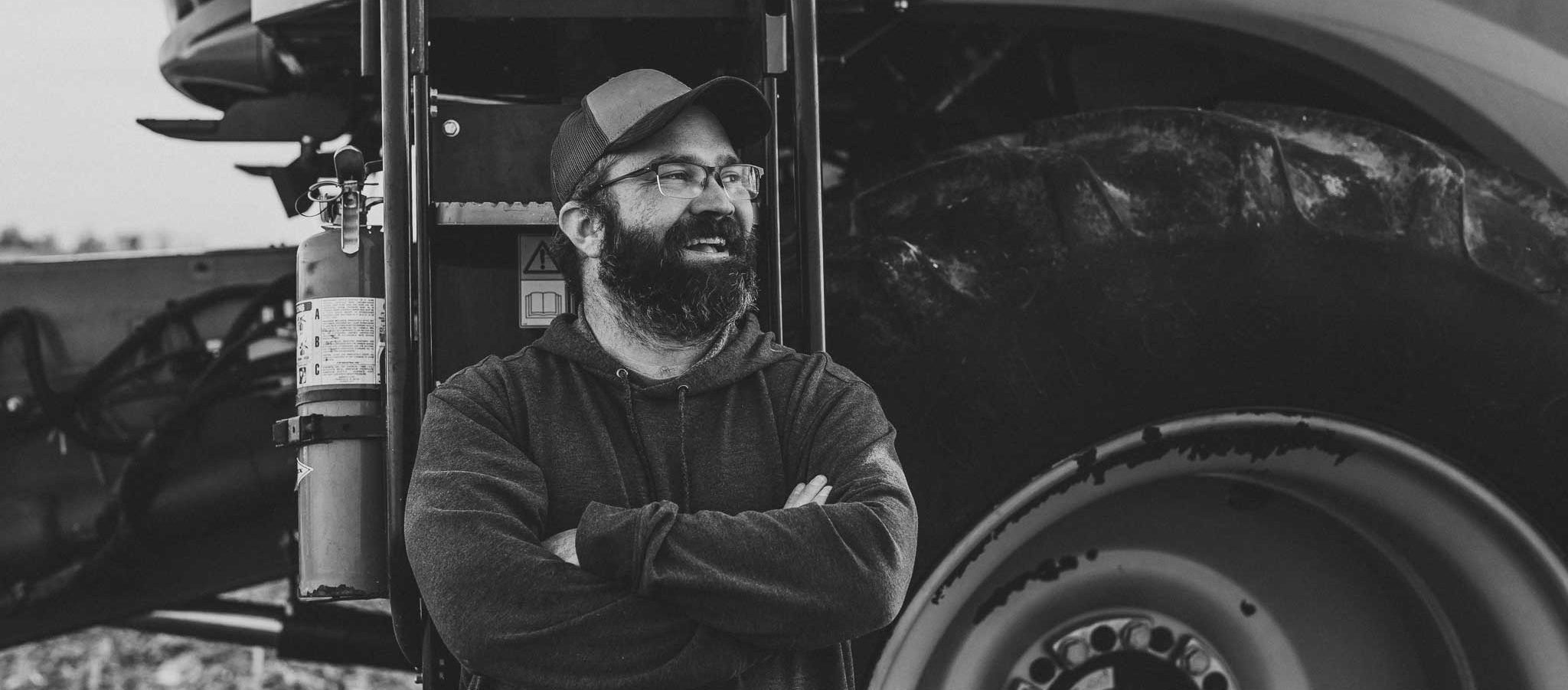 Tyler Miller
Wyandot County Soybean Farmer
As a fourth-generation farmer, you might think that Tyler has always lived and breathed farm life. But it wasn't until 2019 that he decided to return home and farm. Now, representing District 6 on the Ohio Soybean Council Board of Trustees, Tyler is putting his innovative ideas and B.A. in Communications to good use and ensuring a profitable future for Ohio's soybean industry.
Q. Why do you believe in the Ohio Soybean Checkoff?
I think the Ohio Soybean Checkoff is beneficial for not only soybeans but all the other commodities as well. There are so many markets and opportunities out there. It would be impossible for a farmer to keep track of them on their own. The Ohio Soybean Council gives us a lot of opportunities to increase our bottom line. It's a good catch-all for all these markets without putting too much time and effort on the farmer's part.
Q. How is the Ohio Soybean Council driving the market for your soybeans?
When I was a kid, the only thing dad said soybeans were useful for was being sent down to the Carolinas for chicken feed. Now, when we haul crush, seeing the amount of business going on there – trucks leaving with oil and bean meal and just as many trucks coming in – it really shows how much the market is expanding. And it keeps growing every year.
Also, in the board meetings I've attended with the Ohio Soybean Council, they keep talking about how Africa is set to be one of the biggest markets in the next 10 to 20 years for food and soybean products. Their population is projected to rapidly increase and develop. Ohio Soybean Council is making sure we're part of this growth.
Q. What do you think about the new uses for soybeans being developed?
There are so many more uses for soybeans now, and Barry McGraw and his team at Airable Research Lab play a big part in that. Airable has done a lot of work with consumer-grade products and getting soy-based products into stores the past couple of years. Airable also made a soy-based grease block for semi-trucks, and when you think about how many semi-trucks are on the road… that has a lot of demand.
Q. How does the plant research the checkoff helps fund impact you?
The Ohio Soybean Council does a lot of research with Ohio State University. Seeing all the reports they put out on stinkbugs, soybean cyst nematode, and the different weed-resistant and herbicide programs, it's really opened my eyes to how farms need to manage differently and what I need to watch out for.
We aren't growing beans the same way we were ten years ago. Things that worked in the past aren't working now.
All the different herbicides and pest management practices change every year. The research they put out keeps me informed on how to plan. For example, on our farm, we're now spraying fall herbicide which we've never had to do. But we've really seen the benefit of it in being able to manage the invasive species for next year.
Q. How is GrowNextGen impacting the soybean industry?
GrowNextGen has grown so much since we started doing it. Virtual field trip and ChickQuest participation has gone up exponentially. I don't think about it because I went to a rural school with FFA programs, but a lot of metropolitan schools don't go over ag. GrowNextGen absolutely introduces the ag industry to kids that wouldn't necessarily be exposed to it.
It also brings in fresh talent that is outside the industry. My wife teaches at the University of Toledo in Bioengineering. She sees a wide variety of students, and they all have a different way of thinking about ag. Sometimes they'll have someone propose an obscure idea to come to a solution. That's a great way to go about progress… coming at challenges from a different way instead of mildly tweaking what you know.
Q. Why do you think the Ohio Soybean Council is effective at what they do?
A lot of soybean farmers have no idea what their checkoff dollars go to. But the Ohio Soybean Council does a good job of showcasing what they are involved in and making the tie of how much our commodity price is generated from the checkoff and the different markets it has helped evolve. They also encourage younger farmers to get involved, which is the only way to keep things going and drive the future demand for soybeans.