January 3, 2020 Ohio Soybean Council
After a challenging growing season for farmers across the state, the 2019 Industry Dinner celebrated the efforts of both the Ohio Soybean Council (OSC) and Ohio Soybean Association (OSA) to better the soybean industry. This year, OSC honored the U.S. Soybean Export Council (USSEC) with the Outstanding Achievement Award for their dedication to creating a preference for U.S. soy by building and maintaining relationships across the globe.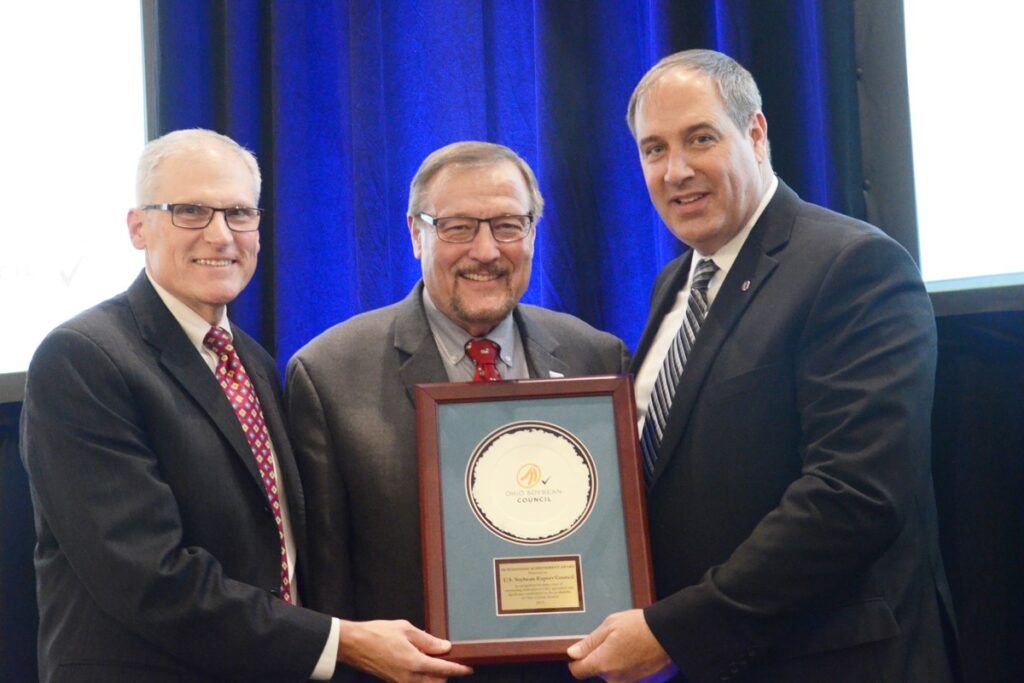 Ed Beaman, senior director of basic market assessment and non-traditional funding at USSEC, accepted the award on behalf of the organization. He shared the strategy that USSEC uses when trying to create and expand markets for U.S. soybeans.
Beaman told attendees that building new markets is a long-term endeavor, and he reminded everyone that USSEC worked for 12 years in China before any soybeans were sold there. He described the tactics that were used to promote soybeans in China and explained that the same tactics are being used to build new markets in other countries.
"While we probably don't have a silver bullet to replace China, I do think we have a lot of silver buckshot," Beaman said. "If we can employ that buckshot around the world properly then I think U.S. soybean growers can rest assured knowing there is a huge effort going on to make sure we promote U.S. soy."
Beaman went on to say that part of the beauty of U.S. Soy is the diversity. "If there is drought or bad weather in one part of the country there's good weather and great crops in another part of the country," he said. "That is frankly, part of the high level of confidence international buyers have in U.S. soy."
In addition, both organizations recognized Scott Metzger and Steve Reinhard, who finished their terms as OSA president and OSC chairman, respectively. They also recognized their retiring members.
Retiring OSC Board Member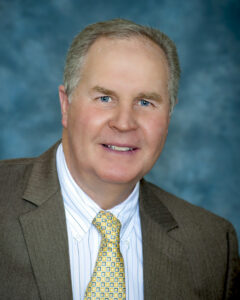 Keith Kemp of Preble County joined the OSC in 2001 and the USB in 2010. During this time he's served in many different leadership roles, including as Chairman, Vice Chairman, Treasurer and Secretary of OSC. He has been a representative to the North Central Soybean Research Program and chair of the OSC's Research Committee.
At the national level with the USB, Keith has been a member of multiple committees, most recently the Financial Audit Committee. He has traveled overseas to represent U.S. soybean farmers to international customers, and he has served as a media spokesman on production, bioproducts, and sustainability topics Keith farms nearly 1500 acres of
soybeans, corn and wheat.
Retiring OSA Board Member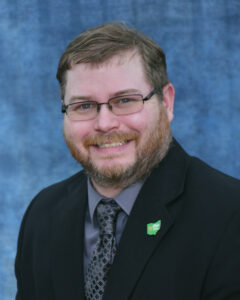 Jeff Roehm of Highland County has been on the OSA Board of Trustees since 2008. He has served as OSA Vice President and Treasurer, as well as on multiple committees. Jeff is a graduate of the Diesel Technology program at Northwestern College in Lima, Ohio. He is also active as a Highland County Farm Bureau Board Member and is a past participant in American Soybean Association's Dupont Young Leader Program.