Oh, the Places your soybeans will go! And how they get there.
March 17, 2022 Ohio Soybean Council
Truck to rail to barge. Or perhaps, truck to barge to truck. Or maybe just truck to train. Soybeans travel in many ways and in many forms to locations all around the world. More than 50 percent of Ohio's soybean crop is exported to domestic and foreign markets each year, making soybeans Ohio's largest agricultural export. Ohio soybean farmers can benefit from the state's varied and robust transportation systems.
Due to Ohio's vast system of interstate roadways and rail lines, and access to both the Ohio River and Lake Erie, soybeans can easily travel out of Ohio in four directions: north via the Great Lakes through the Toledo port; south via bulk and containers on the Ohio River; east via interstate bulk, containerized truck and containerized rail; and west via bulk and containerized rail.
"Ohio soybean farmers are in an ideal location for domestic and international markets," said David Clark, Warren County soybean farmer and Soy Transportation Coalition representative. "Whether grain is leaving by boat, truck or train, Ohio has the means. We work with groups like the Soy Transportation Coalition to maintain these routes and create efficient  t transport of Ohio's beans."
Whole soybeans, meal and oil varied on transportation methods out of Ohio. According to a checkoff-funded study done by IHS Markit, about five percent of whole soybeans traveled via barge, 30 percent via rail and 65 percent via truck during 2019 and 2020. Similarly, soybean meal moved via rail and truck almost equally with little barge travel. During that same time, rails carried about 88 percent of soybean oil from Ohio and trucks carried about 10 percent.
Most Ohio soybeans leaving the United States exit at ports along the Atlantic and Gulf Coasts. During 2019 and 2020, 10.5 million bushels of soybeans exited the United States via the Atlantic and 8.8 million bushels of soybeans left via the Gulf Coast (see graph below). Other export locations for Ohio soybeans include the Great Lakes and Canada.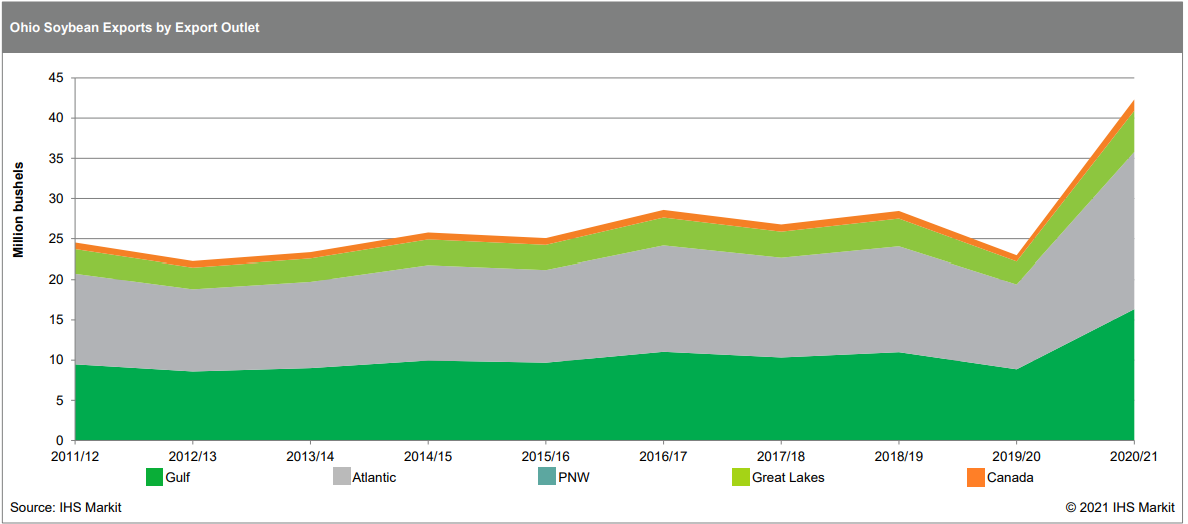 Whether it's by truck, barge or rail, Ohio soybeans need to get from Point A to Point B as smoothly and efficiently as possible. That's why the Ohio Soybean Council identifies where Ohio soybeans are traveling and invests in projects and partnerships that will help maintain these transportation ways.