Read the latest Ohio Soybean Council investor report to see how we're investing in the future of Ohio's soybean farmers.
Innovation For A Better Tomorrow
The Ohio Soybean Council is always working to discover and implement ways soy can help improve the world, improve yields, and create new opportunities for future generations. Below are just some of the amazing stories of ways the Ohio Soybean Council has helped make a future for people today.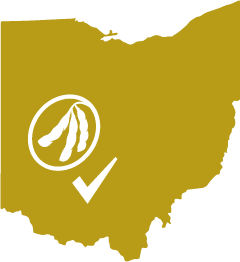 Airable Research Labs
Advancing Soy
Alex Shand is an Innovation Engineer at Airable Research Lab, an Ohio Soybean Checkoff partner.
Airable is leading the charge for more bio-based and soy-based products that are aiding in driving up the interest in soy and benefiting farmers by creating a larger demand for their crops. The engineers at Airable have been able to push the possibilities and find uses soy-based products thanks to their partnership with the Ohio Soybean Council.
Through their partnership with Ohio soy growers, Airable engineers are able to connect with checkoff members and give them insight on where their harvest is going and the final output and advancement of all their hard work.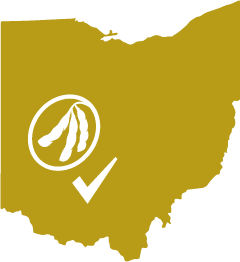 Kemp Farms
Investing In The Future
Keith Kemp and his family own and operate a 1,700 acre no-till farm, raising corn, wheat and soybeans for the past 30 years in Southwestern Ohio. Over the years he has really seen the value of the Ohio Soybean Checkoff and is hoping to share that value with future farmers.
Kemp shares that he is seeing a great return on everything they have invested into the checkoff. From research to product innovation, being a part of the Ohio Soybean Council has helped him get excited about future opportunities of soy-based products. He hopes to share with younger farmers that being involved in the checkoff gives you a leg up, by being connected with some of the top people on the industry, and it's getting advice and product information from other experienced farmers that makes the checkoff so valuable.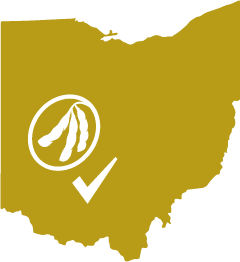 Layman Farms
Partners In Opportunity
Cindy Layman and her husband have been running Layman Farms, a 5,500 acre corn and soybean operation in Kenton, Ohio for 40 years.
Cindy considers her investment in the checkoff an investment in the growth their farm. Being a part of the Ohio Soybean Council allows them to concentrate on caring for their crops and their yearly harvest while someone else researches alternative uses and markets for their soy. Cindy recognizes the importance of soy innovations and appreciates a partner that brings new opportunities and advancements to the table, allowing her to continue to run day-to-day operations on their farm.
For the Future of the Soybean Industry
It's not just about the price you get for your soybeans. It's about managing fuel, seed and other input costs with an ever-changing commodity and specialty market for your crop. It's about profitability so you can reinvest in your farm and be able to leave it to the next generation.
The Ohio Soybean Council (OSC) manages the state's portion of your soybean checkoff and invests those dollars in programs and projects that will improve profitability for you, your children and your grandchildren.