For the Future of the Soybean Industry
It's not just about the price you get for your soybeans. It's about managing fuel, seed and other input costs with an ever-changing commodity and specialty market for your crop. It's about profitability so you can reinvest in your farm and be able to leave it to the next generation.
The Ohio Soybean Council (OSC) manages the state's portion of your soybean checkoff and invests those dollars in programs and projects that will improve profitability for you, your children and your grandchildren.
Checkoff Dollars in Action
The Ohio Soybean Council works to increase global demand, improve yields, and create new opportunities for future generations. Here are just a few of the many stories the Ohio Soybean Council has helped make a reality.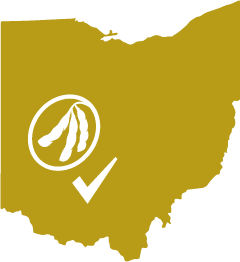 Davis Family Farm
Growing Possiblities
Wade McAfee, a fourth-generation farmer, and his stepfather, Bret Davis, farm 3,000 acres in Delaware, Ohio. For Wade, his soybean checkoff investment means he and other farmers are investing in the future of Ohio soybeans. Like so many other farmers, he cannot be two places at once to run a farm, raise a crop, reach out globally and prove what he grows is the best product.
He appreciates that the Ohio Soybean Council, the organization that manages the soybean checkoff, actively looks for new market opportunities by hosting trade team visits to connect international buyers with Ohio farmers. He values the checkoff's partnership with the U.S. Soybean Export Council, knowing they are working together to build a global preference for U.S. soy. He knows that, ultimately, these activities increase demand for his soybeans and help ensure his crop is profitable. Wade knows if his son, Braxton, wants to be part of the farming operation down the road, farmers have to continue investing in the kinds of programs that have a positive impact on their operations.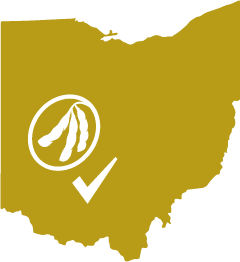 Benchmark Biodiesel
Growing Profitability
Page Thorson and her husband, Wade, offer BQ-9000 soy biodiesel at their Benchmark Biodiesel terminal in Columbus, Ohio. Their biodiesel is distributed to farmers, fire departments and government fleets all around Ohio and contributes to the profitability of Ohio soybean farmers. Biodiesel demand increases soybean demand, and biodiesel demand alone has provided farmers an increase in profits of 63 cents per bushel.
Additionally, biodiesel creates cleaner, healthier air by reducing emissions and lessening its overall carbon footprint.
Working with the Ohio Soybean Council, soybean farmers have grown the demand for biodiesel. Learn more about the checkoff's investment in biodiesel here.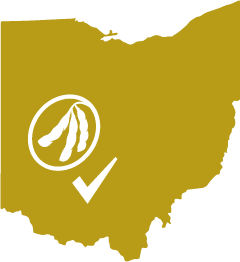 Layman Farms
Growing New Uses
Jan Layman, general partner of Layman Farms LLC, grows both commodity and food grade soybeans on his 5,500-acre farm in Kenton, Ohio. For Jan, it's important to align his crop rotations with the demands of end users, whether they area food company, an international exporter, a consumer or a processor. His goal is to ensure their demands are met while also raising soybeans that are efficient and offer more profitability. To ensure he's aligned with end users, he actively seeks information from the Ohio Soybean Council (OSC) and tracks their research on new varieties, new uses and new soybean products coming to market.
Read the latest Ohio Soybean Council investor report to see how we're investing in the future of Ohio's soybean farmers.
Watch webinars about how the Ohio Soybean Council is growing profitability and opportunity for Ohio soybean farmers.