Read the latest Ohio Soybean Council investor report to see how we're investing in the future of Ohio's soybean farmers.
Checkoff Dollars in Action
The Ohio Soybean Council works to increase global demand, improve yields, and create new opportunities for future generations. Here are just a few of the many stories the Ohio Soybean Council has helped make a reality.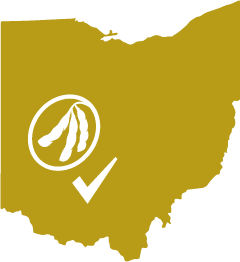 Davis Family Farm
Growing Possiblities
Wade McAfee, a fourth-generation farmer, and his stepfather, Bret Davis, farm 3,000 acres in Delaware, Ohio. For Wade, his soybean checkoff investment means he and other farmers are investing in the future of Ohio soybeans. Like so many other farmers, he cannot be two places at once to run a farm, raise a crop, reach out globally and prove what he grows is the best product.
He appreciates that the Ohio Soybean Council, the organization that manages the soybean checkoff, actively looks for new market opportunities by hosting trade team visits to connect international buyers with Ohio farmers. He values the checkoff's partnership with the U.S. Soybean Export Council, knowing they are working together to build a global preference for U.S. soy. He knows that, ultimately, these activities increase demand for his soybeans and help ensure his crop is profitable. Wade knows if his son, Braxton, wants to be part of the farming operation down the road, farmers have to continue investing in the kinds of programs that have a positive impact on their operations.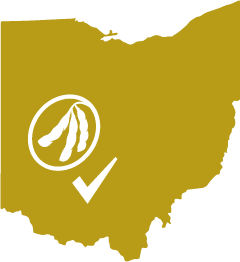 OSC Research & 11th Candle Company
Growing Demand
Ram Lalgudi is the CEO of Aries Science and Technology in Delaware, Ohio. He partners with the Ohio Soybean Council (OSC) because he believes in its mission to create new soy-based products and increase sales of existing products that use soybeans as an ingredient. He knows consumers are looking for bioproduct alternatives that don't sacrifice performance or competitive pricing.
Amber Runyon is the founder and CEO of Eleventh Candle Company in Columbus, Ohio. Working with OSC and its partners, like Ram and his company, Eleventh Candle Company is improving the burning efficiency and increasing the demand for its 100% soy-based candles. The technologies being developed to help Amber and her team could potentially have larger implications, including candle brands that have moved away from 100% soy wax candles.
OSC and the soybean checkoff work hard to conduct research and make strategic business connections that will build demand for Ohio soybean farmers.
Checkoff Dollars In Action
It's not just about the price you get for your soybeans. It's about managing fuel, seed and other input costs with an ever-changing commodity and specialty market for your crop. It's about profitability so you can reinvest in your farm and be able to leave it to the next generation.
The Ohio Soybean Council (OSC) manages the state's portion of your soybean checkoff and invests those dollars in programs and projects that will improve profitability for you, your children and your grandchildren.