OSA Board Meets With Legislators at December Meeting
January 3, 2020 Ohio Soybean Association
At their December meeting, farmer leaders from the Ohio Soybean Association (OSA) board gathered together to discuss the past year and start planning for 2020.
First, Trish Cunningham, OSA policy committee chair, gave the board an update on pending legislation that could affect soybean farmers. Some of this legislation includes:
Senate Bill 2 – creates the Statewide Watershed Planning and Management Program under the administration of the Director of Agriculture and makes changes to the law governing regional water and sewer districts.
House Bill 7 – creates the H2Ohio Trust Fund for the protection and preservation of Ohio's water quality and the H2Ohio Advisory Council to disburse money from the fund for water quality programs. It also creates the H2Ohio Endowment Board to make recommendations to the Treasurer of State regarding the issuance of securities to pay for costs related to the purposes of the Fund.
House Bill 183 – creates an income tax credit for beginning farmers who attend a financial management program and an income tax credit for individuals or businesses that sell or rent farmland, livestock, buildings, or equipment to beginning farmers. OSA had initially remained neutral on the bill due to a provision prohibiting family-to-family transactions, but an amendment was introduced to make those transactions eligible.
House Bill 400 – authorizes a nonrefundable personal income tax credit of $0.05 per gallon for the retail sale of high-ethanol blend motor fuel, which contains between 15% and 85% ethanol.
Fuel Quality Bill (draft) – Allows county auditors to implement a fuel quality testing program. If ODA ever establishes a statewide fuel quality testing program, that would supersede county programs. This bill is pending introduction with no bill number assigned yet.
Next, the board elected their leadership for 2020 (for more on new board leadership, see page 7). As the immediate-past president, Scott Metzger (Ross County) will serve as the chairman.
President: Ryan Rhoades (Marion County)
First Vice President: Patrick Knouff (Shelby County)
Vice President: Jennifer Wilson-Oechsle (Van Wert County)
Treasurer: Jeff McKanna (Hancock County)
Secretary: Rusty Goebel (Williams County)
Senate President Larry Obhof (R-Medina) spoke to the group about trade and water quality issues, and Ohio Department of Agriculture Director Dorothy Pelanda spoke about the rollout of Governor DeWine's H2Ohio program.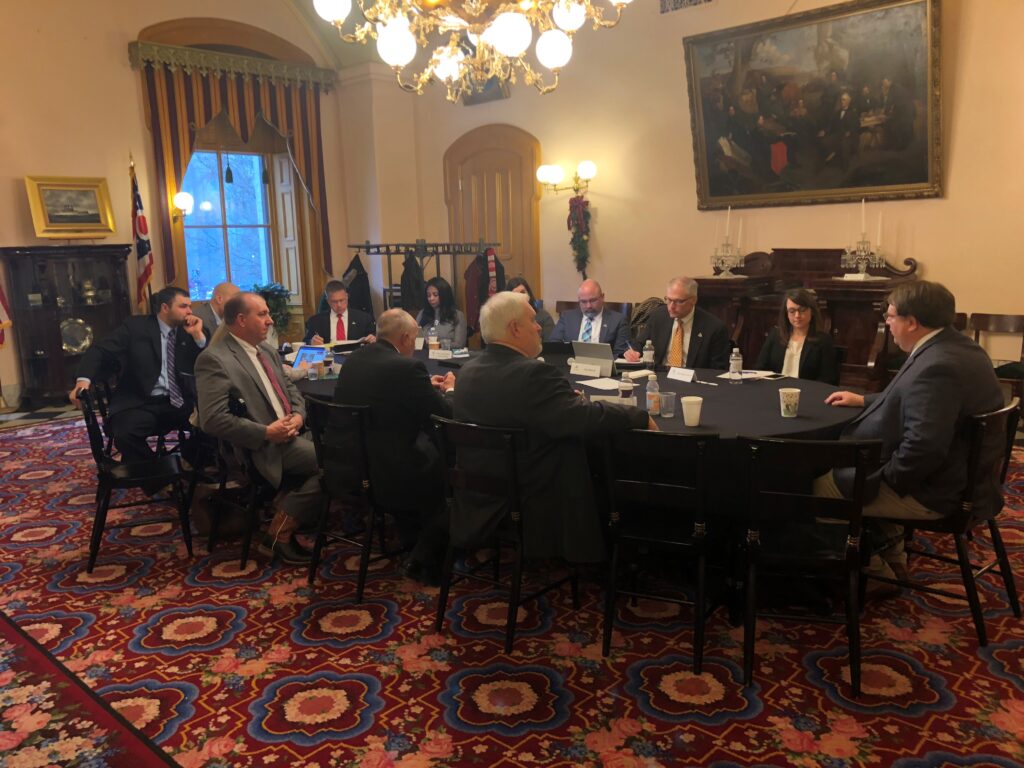 In the afternoon, board members broke out into groups and met with several key legislators and their staff including Senator Theresa Gavarone (R-Bowling Green), Representative Jon Cross (R-Kenton), Representative Jim Hoops (R-Napoleon) and Representative Jena Powell (R-Arcanum).