Who's Who is Airable Research Lab?
October 11, 2021 Ohio Soybean Council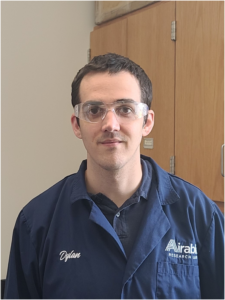 DYLAN KARIS
Role: Lead Chemist since September 2020
Can you tell us a little about your educational and professional careers?
I earned a B.S. in chemistry from the University of Wisconsin – Eau Claire and then a PhD in chemistry from the University of Washington.
Why did you want to work for Airable Research Lab and the Ohio Soybean Council?
Airable Research Lab and OSC are application-driven with the goal of research and discovery (R&D) to produce something of commercial value. This combination of application-driven research, ability to start and kill projects quickly and creative freedom are what made me want to work for Airable and OSC.
Why do you enjoy working with soy?
Sustainability is something that has always interested me but my research in academia tended to be focused on materials where the end goal was the material properties. Little attention was paid to chemical sourcing, biodegradability or sustainability. At Airable, all of our projects are soy-centric, we can be sure that our efforts will produce something with high bio-content and therefore, more sustainable products.
What has been your favorite project to work on?
I greatly enjoyed working on a project related to compostable pressure-sensitive adhesives for industrial labels. This was my first project at Airable Research Lab, and it was a great exercise that allowed me to learn about soybeans and immediately work on producing samples for a commercial client.
Where do you see the industry going in the next couple of years? Do you think corporations will look to use more biobased products?
One hundred percent yes, we are already seeing the shift to biobased products in Europe, and the U.S. will surely follow this trend. Airable and OSC have been working on new uses for soy before the need for companies to make this shift. This puts us in a unique position to become the experts in soy-based technologies and I expect our experience will be in demand in the coming years.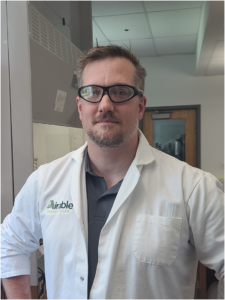 ROB CAIN
Role: Senior Materials Research Scientist since April 2021
Can you tell us a little about your educational and professional careers?
I have a B.S. in applied physics from Xavier University. I then continued my education at the University of Cincinnati earning a masters in material science with a polymer focus. I began working at Battelle Memorial Institute's Advanced Material Department after receiving my masters. There I began supporting OSC in developing new uses for soy co-products.
What do you enjoy about working on behalf of farmers?
I enjoy both helping people and developing solutions. The commitment OSC has given to new product development has allowed me to contribute to patents, awards and developing soy products. It's nice to know your work is value-added, creating demand and there is a return we are bringing back to the soybean farmers.
What has been your favorite project to work on?
Every project where a solution is developed. Surfactants are generally the most satisfying, and the glassware usually cleans itself.
What is a project that you are currently working on?
I'm working on a few things: automotive products, like leather conditioner and tire treatments, and new RoofMaxx product development.
Why should farmers continue to invest in biobased research?
Investments should always bring value back. Biobased research brings back not just returns, but new products, sustainable research and awards.