Airable Labs to Create Products and Demand
November 6, 2019 Ohio Soybean Council
For over twenty years, the Ohio Soybean Council (OSC) and soybean checkoff have been leaders in developing and commercializing new soy-based products that increase the demand for soy. Taking this work to the next level, OSC has launched Airable Research Lab, a new business line and brand that will capitalize on current research and find new opportunities to expand the use of soy in household and commercial products.
OSC has a long and successful history of working directly with partners in the research, university, non-profit, and commercial industries to upgrade products and create new ones. Many of these products have won numerous national and international accolades, including ten R&D 100 Awards, the most prestigious research and development award in the world.
Airable Research Lab will increase OSC's reach and ability to market their services to potential partners. Through every commercial development stage, the lab's chemists and inventors will work hand in hand with clients to develop solutions tailored to their needs.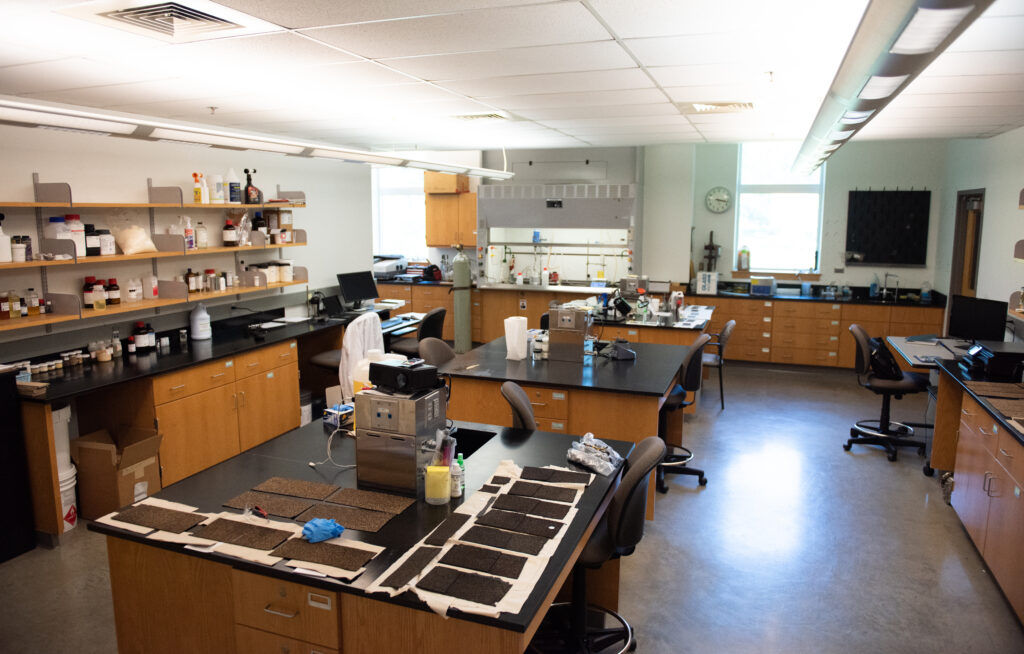 "For our current partners, they will still receive the same attention to detail and creative thinking they have come to expect from us," said Barry McGraw, OSC Director of Product Research and Airable Research Lab CLO. "Companies all over the world, large and small, are hungry for green technology that is easy to adopt — we can provide them that. Soybean farmers are looking for new markets — we can create them."
McGraw has had a busy year, spending the majority of 2019 focused on transitioning OSC from its old method of soy-based product development into its new model.
The new model builds upon OSC's almost 25 years of experience in funding and creating new biobased products, but allows OSC more flexibility. When OSC first began investing in new uses research, the organization primarily relied on Battelle, a Columbus-based R&D company, to develop new soy-based products with checkoff funding. Then six years ago, McGraw joined the staff and helped diversify OSC's contacts while maintaining the relationship with Battelle. This second phase of new uses research opened up collaboration to work with not only R&D companies, but other organizational types, including commercial entities within the surfactant and coating industry.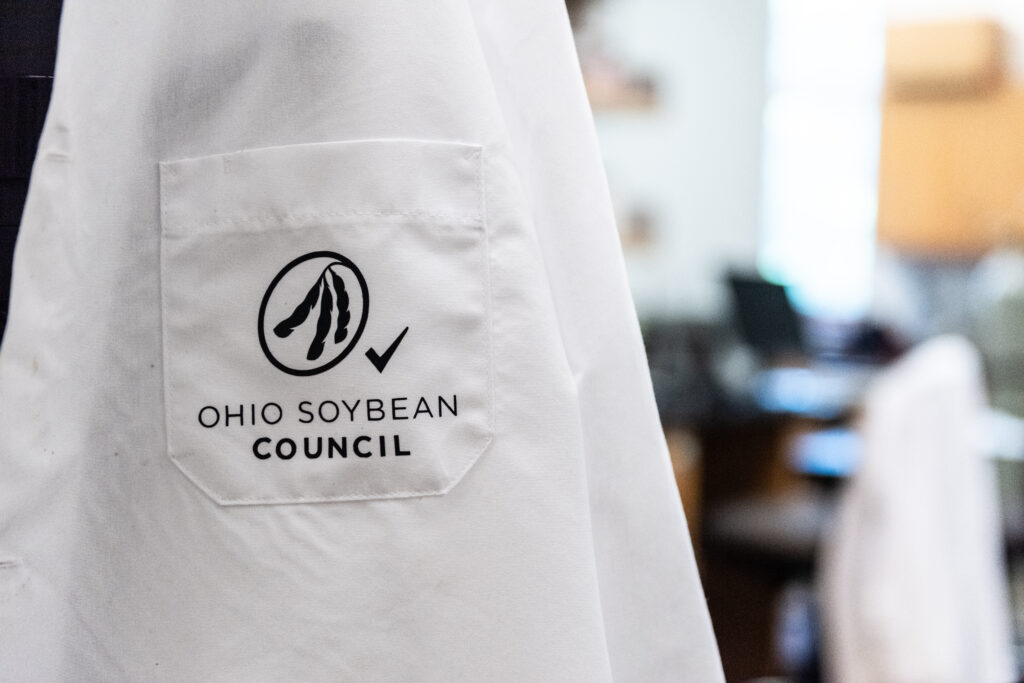 Soon it became apparent that some companies didn't necessarily need checkoff dollars for research but needed ideas on what soy-based products to develop and how to create them. With the opening of Airable Research Labs, that R&D process becomes internal, meaning that companies can now contact Airable Labs directly to develop new products, instead of OSC working strictly in an investor role.
McGraw explained that in the past, OSC was really only able to provide one factor: funding. "Now we're approaching companies with two variables: funding and ideas. The ideas for soy-based products can really help their company," he said. He noted that in the past, if OSC identified a gap in the industry, they could only fund another company to fill it. With Airable Labs, OSC can more proactively fill gaps in the industry where a soy-based product can be developed.
"We're really excited to see where this new lab will take us in terms of new uses research," said Todd Hesterman, chair of OSC's Research Committee. "Ohio has always been a frontrunner in this area, and we look forward to staying on the cutting edge of soy-based research."
McGraw explained that now is a perfect time to start a lab like this one because in a time of lower prices and trade uncertainty, it allows for more diversified demand opportunities for farmers. He also explained that opening a new lab allows for the R&D process to be done more economically, making it a smarter investment of checkoff resources. By cutting out the middleman, Airable Labs is able to do more research for the same amount of money.
"The Ohio Soybean Council has been investing in the development of new products made from soybeans for decades and we've had tremendous success," said Steve Reinhard, OSC chairman and Crawford County soybean farmer. "We hold multiple patents on products we've developed with partners and received multiple awards. But the most important part of this work is the value and return on investment we're bringing back to Ohio soybean farmers."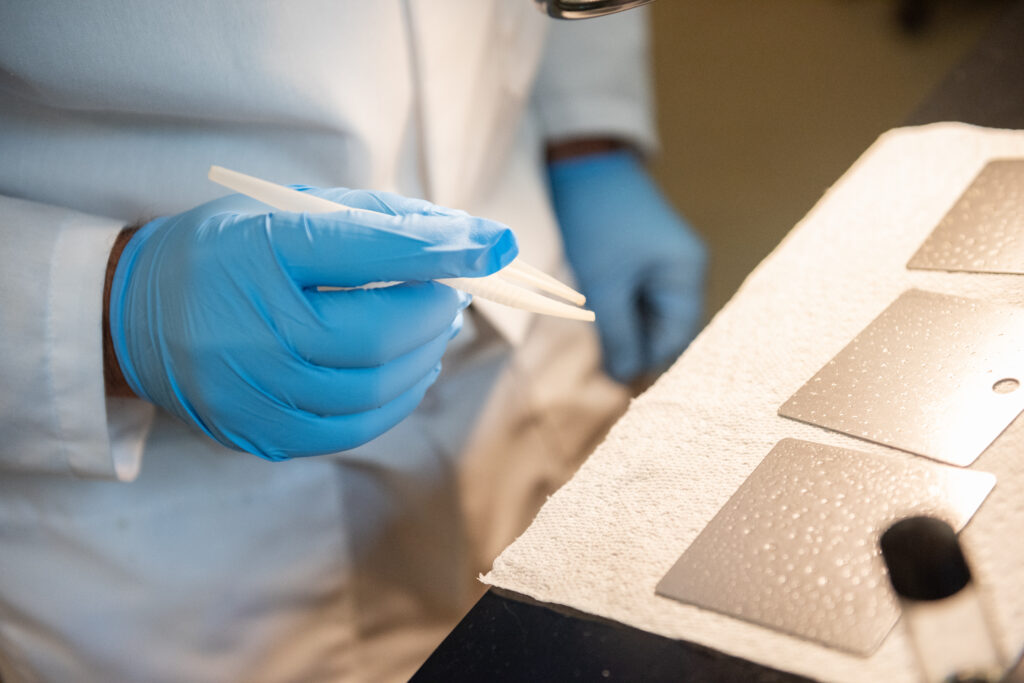 Since the new lab is "in-house," OSC has more flexibility in what and how they develop, with the ability to change things up in the middle of a project to try something new.
"We now have a direct connection to you guys, which means the process is streamlined and we're able to move at light speed," said Mike Feazel, CEO of Roof Maxx, a product which Airable Labs is currently working to improve with cleanability and fire retardant functions. "It's helpful that with that direct connection, we're able to know where we stand at all times with our project."
His brother and business partner, Todd Feazel, executive vice president of Roof Maxx, agreed. "I have the people of Airable Labs at my disposal. Whenever I have a question or a need, I can email, text or call and they're always very quick to respond to my needs."
As the demand for green products only continues to grow, it made sense to expand. Recent polling shows that 71% of Americans would prefer to purchase a bioproduct rather than a petroleum- or chemical-based product if the cost is equivalent.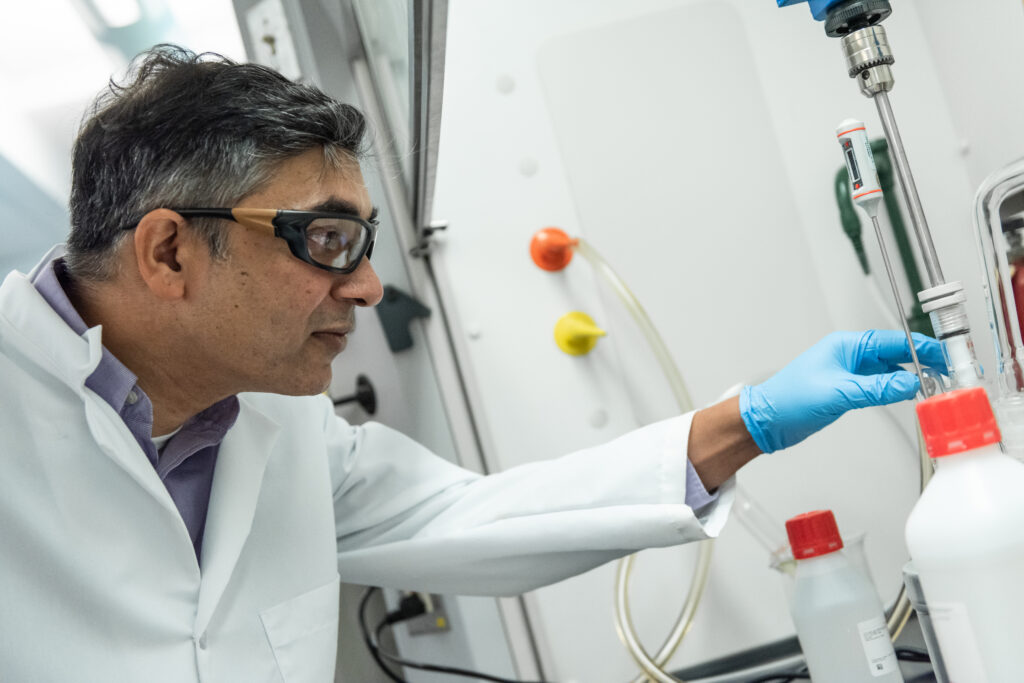 "For consumers, these soy-based products are safe, environmentally friendly and don't use any toxic materials, and they're more sustainable. So more and more consumers looking for using sustainable bio-based material and the soy-based products are the solution," explained Ram Lalgudi, inventor and CTO for Airable. Lalgudi has worked with OSC for many years through his work at Battelle.
The possibilities for soy-based products really are endless. OSC has won 10 R&D for products ranging from floor coatings to aquaculture feed. Currently, OSC is also working on developing a more stable soy wax with the Eleventh Candle Co.
"The new lab has been a great asset to us," explained Amber Runyon, founder and CEO of Eleventh Candle Co. "This is the first year that we've worked with the soybean checkoff, and they've really been able to help us drive marketing, which increases the demand for soy candles and increases the demand for soybeans in general."
The lab also has its sights set on international markets, starting by working with an Australian company to create a surfactant for agricultural adjuvants and a coating for concrete roofs, which are popular in Europe and Australia. The lab is also in talks with a U.S. company and a Brazilian company about creating an anti-static plasticizer for PVC.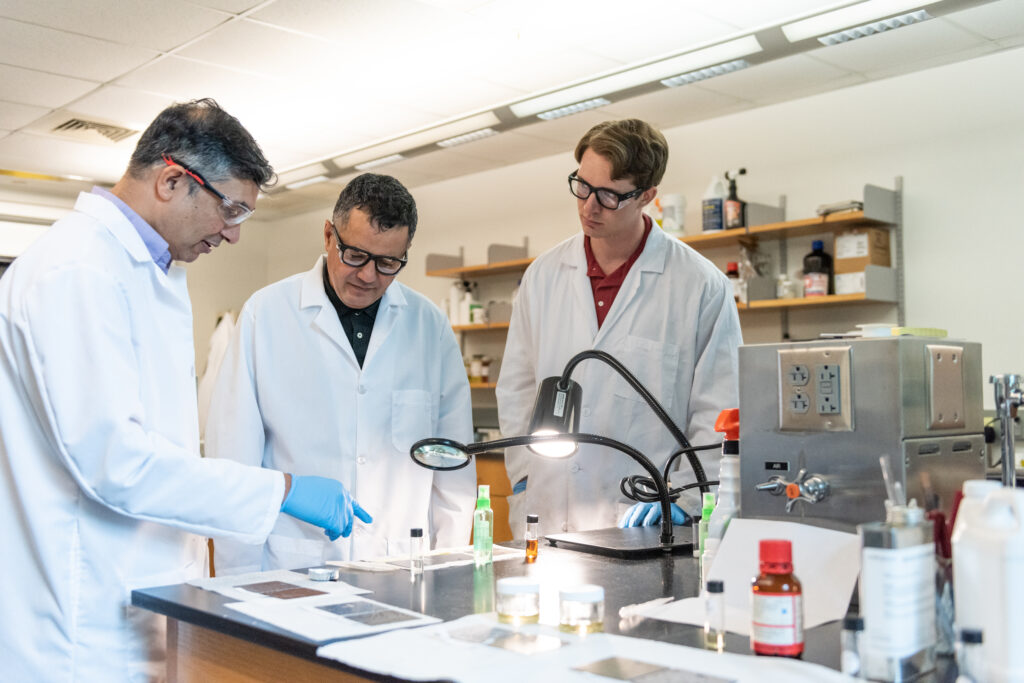 Airable started as just one lab on Ohio Wesleyan University's (OWU) campus but has quickly expanded to three labs as OSC plans to ramp up its work. "By having our own lab, we're kind of in charge of our own destiny and can get these products to market quicker," said McGraw. To date, OSC has licensed seven products.
The partnership is mutually beneficial, according to OWU's Associate Provost for institutional Effectiveness Dale J. Brugh, who said, "The partnership between Ohio Wesleyan University and the Ohio Soybean Council/Airable Research Labs provides Ohio Wesleyan students with unique opportunities to apply what they learn in the classroom through on-site internships. The partnership highlights how a background in the liberal arts prepares a person for entrepreneurship."
This entrepreneurship is echoed in the farmers who help direct and fund the new lab. "The unique thing about Airable Labs is that we're governed and supported by soybean farmers and their primary objective is to create demand for their product," McGraw said. "Inherently farmers are entrepreneur-type people. Because of the farmer support, we are able to work on new ideas that are maybe a little riskier than other R&D companies. It allows us to think a little differently about these new technologies.
"I'm thankful for the vision of our farmer-led board — for their entrepreneurial way of thinking and their willingness to think outside the box."