Franklin County Engineer's Office Makes the Switch to Biodiesel
November 6, 2019 Ohio Soybean Council
Not many people think of Franklin County as a powerhouse in soybean production — only 27,000 soybean acres were planted in 2017 according to the United States Department of Agriculture statistics. Recently, however, the Franklin County Engineer's Office has become a powerhouse in soybean consumption.
Back in April 2019, the Franklin County Engineer's Office switched their fleet of vehicles from diesel to B20 blended biodiesel. Since then, their fleet has used about 60,000 gallons of B20 biodiesel. For December through March, the office plans to use a B5 blend, but they are open to the possibility of using B20 year-round.
"Twenty percent of Franklin County's land is farmed, and we all rely on farming each and every day," said Cornell Robertson, who has served as the Franklin County Engineer since 2017. Page Thorsen, CEO of Benchmark Biodiesel, a Columbus-based company that supplies the fuel to the Engineer's Office, agreed with Robertson, saying, "Biodiesel is a business that has everything to do with Ohio."
Robertson emphasized how important it is to consider the environment and explore ways to protect it. "We realize how important it is to be green. It's not easy," he said with a smile, making a reference to Kermit the Frog. "But it can be done."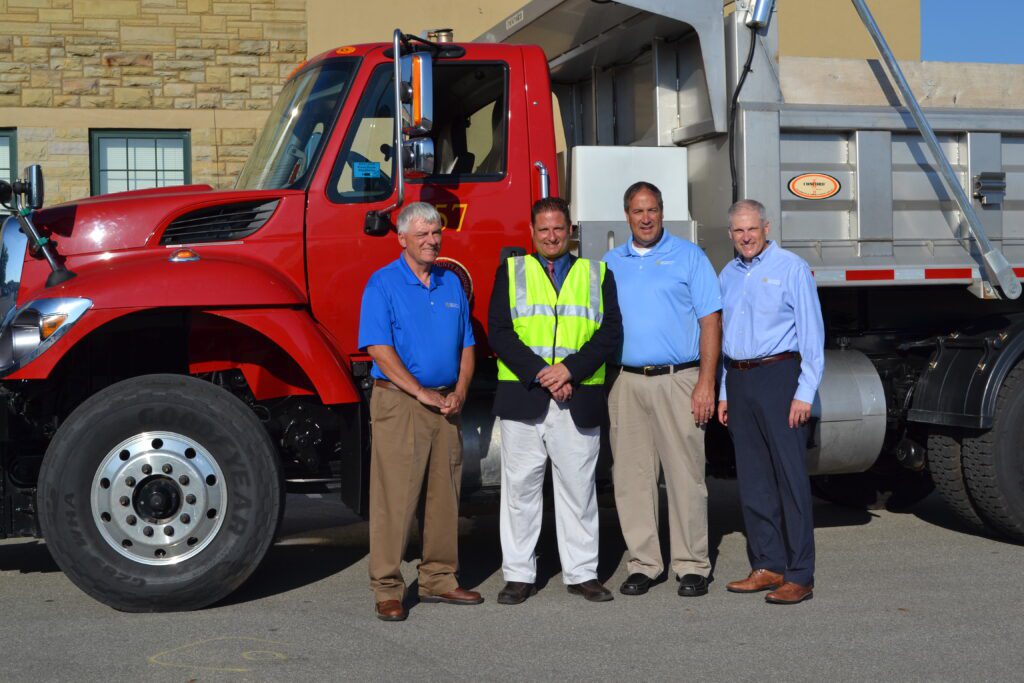 The Engineer joined the Municipal Equipment Maintenance Association (MEMA), which helped introduce them to Clean Fuels Ohio (CFO) and the Midwest Green Transportation Forum and Expo. The Ohio Soybean Council (OSC) is a member of CFO and invests checkoff dollars into their fleet outreach. According to the National Biodiesel Board, biodiesel uses 300 percent more soybean oil than it did 10 years ago, making it a key market for soybean oil.
"We're happy to see the Franklin County Engineer's Office making the commitment to using biodiesel," said Mike Heffelfinger, Van Wert County farmer and OSC's representative on the National Biodiesel Board. "Biodiesel is often an easy switch to make for these large fleets so we hope more fleets in Franklin County and around the state will follow their lead."
Heffelfinger is right about biodiesel being an easy switch — according to Fleet Manager Jeff Markusic, the Engineer's Office had to make zero technical changes to their fleet in order to start using B20 blend biodiesel. This easy switch is one of the reasons they were drawn to biodiesel in the first place.
"Biodiesel was the lowest hanging fruit. We cleaned out all of our tanks, educated our mechanics on it, spoke with industry personnel then in April we started with B20," Markusic explained. "We didn't have to change our fleet so we could do it without a big investment."
He said that they did hear some negative stories surrounding biodiesel, but decided to make the switch anyway after getting the facts. "We have had no identifiable issues related to B20 at all," he said. "We have plans to go to B20 year-round hopefully," Markusic explained that they are being cautious for this first winter, but he knows of several fleets that use B20 year-round and hopes to follow their example.