Animal Ag Roundtable Highlights Challenges, Opportunities
November 6, 2019 Ohio Soybean Council
With its creation, the Ohio Soybean Council's (OSC) Soy Tomorrow program set out to drive collaboration among industry leaders to ensure the success of the soybean industry for future generations by bringing together industry leaders and stakeholders to enhance the value of the soybean industry.
In August, stakeholders from across the animal agriculture value chain sat down at a Soy Tomorrow roundtable to discuss the role animal agriculture plays in the soybean industry, and how to secure that market share to ensure the longevity of the soybean industry. As OSC's farmer board leaders begin to plan for a new strategic plan to begin in 2020, these conversations help inform the types of projects that OSC board members choose to fund with checkoff dollars.
"Over the last decade, we have seen a decline in protein content in soybeans across the grain belt, and while Ohio still has a reputation for high-quality soybeans, we are not exempt from this trend," explained Kirk Merritt, OSC executive director. "We invited a panel of industry experts to review this issue and provide OSC with advice on how the soybean checkoff should address it, especially as it relates to the animal ag industry."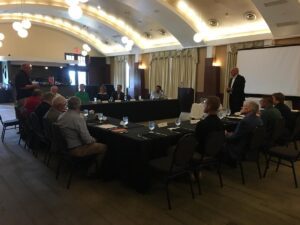 The meeting had three primary goals: increase awareness and understanding of issues related to the decrease in utilization of soybean meal in livestock feed, better understand the drivers and benefits of utilizing soybean meal in livestock feed, and identify potential opportunities to increase the utilization of soy in livestock feed. Participants came from across various industries and parts of the value chain, including agronomists, livestock production managers, animal science experts, swine nutritionists, veterinarians and grain and livestock farmers.
The decline of soybean use in animal feed is twofold, according to John Osthus, who works with the Illinois Soybean Association on their High Yield Plus Quality program. First, soybean quality is declining — a two percent decrease occurred between 2000 and 2017. Second, soybean inclusion rates in livestock feed are declining, about 48 percent between 1990 and 2016. With animal agriculture as soy's number one customer, this decline in quality and usage should be on the radar of soybean farmers across the country.
While it was clear there is no silver bullet to solve the decrease in soy utilization in animal feed, the discussion inspired several potential opportunities for maintenance of current soy utilization or even an increase in soy use. Some preliminary research has been done that suggests a diet with more soybean meal helps with disease prevention, curbs livestock animal bad behavior and could provide more energy. These studies are still in their preliminary stages, but they point to places where checkoff dollars could be invested to reaffirm soy's place as a vital ingredient in feed.
"I was fascinated by the conversations that took place at the round table and I hope we continue to have those conversations as we move into strategic planning for the next three years," said Bill Bayliss, OSC board member and Logan County farmer.
More information about Soy Tomorrow, including links to past webinars, can be found here.