Get to Know Senator Frank Hoagland
March 15, 2020 Ohio Soybean Association
Senator Frank Hoagland is currently serving his first term in the Ohio Senate, representing southeastern Ohio, including the counties of Carroll, Jefferson, Harrison, Belmont, Noble, Monroe, Washington, Athens, Meigs and a portion of Vinton county. He is both a small business owner and a retired Navy Seal. As a state senator, he looks forward to working on issues important to the people of his district, including jobs and economic development, education, veterans affairs and fighting the opiate epidemic in our state. Senator Hoagland serves as the chairman of the Senate Agriculture and Natural Resources Committee.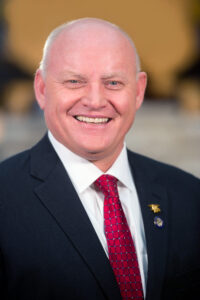 Q: What inspired you to run for office?
A: I ran for office because I know that through my past experience, I have developed and applied the skills necessary to be a productive leader, one who would represent his district with integrity, honesty, and with a team oriented approach.
Q: How did your previous jobs/ experiences prepare you to serve as a legislator?
A: My previous job taught me to face challenges head on, to lead by example, and to learn from and embrace both success and failure. I learned selflessness and that God's gift of life is to be cherished.
Q: What are the most important things you are currently hearing from constituents in your district?
A: We need to continue to focus on the education of our children and that proper education leads to a better community. Maintaining and expanding upon the economic momentum of the district is important to my constituents. It is necessary to continue with this positive progression to ensure a better future for the next generation.
Q: What do you think is the most important for readers to know about what is happening at the Ohio Legislature?
A: Ohio is putting the interests of its people first.
Q: What do you like most about working in the Ohio Legislature?
A: Being in a position to directly hear the needs of the people and working on expanding the areas of capabilities for helping those in need.
Q: What advice would you give to someone who is looking to get more involved in state government?
A: In any situation, it is important to be open-minded and to listen to all sides before acting. leaders must constantly develop their leadership skills in order to be effective in their role.
Q: What do you believe is the most pressing issue for soybean farmers right now? How do you plan to address it?
A: Soybean farmers need to continue to work on expanding the market for soybeans while also focusing on the success of young and future farmers. I plan to empower farmers to invest more into the younger generation of farmers through proper education and training.
Q: What can Ohioans expect from your bills this year?
A: Agriculture and education are the backbones of Ohio and I want to further the progress we've made on each of those and explore new ways to better serve the needs of Ohio. I am focusing on increasing the mobility and communications of our state. I also want to ensure that our veterans, first r\esponders, and law enforcement are being taken care of.
Q: Are there any bills you're working on or that you've already introduced this session that make you especially proud or excited?
A: Our bills are safeguarding children in schools, helping our state's veterans, and creating a safer environment.
Q: Anything else you'd like to add?
A: In God we Trust.