GrowNextGen Externships Bring Experiential Learning to Teachers
November 17, 2022 Ohio Soybean Council
This past summer, with financial support from the Ohio Soybean Council (OSC) and Ohio soybean checkoff, GrowNextGen teacher leaders engaged in externships around the Buckeye State to give STEM teachers a taste of ag careers.
Kellogg Farms
Meghan Prendergast learned about conservation from a farmer's point of view. Prendergast, who teaches biology and plant/animal biotechnology at Global Impact STEM Academy, completed an externship at Kellogg Farms, part of the Blanchard River Demonstration Farms Network.
Prendergast toured the grounds which included stops at all of their major water quality management tactics including grass waterways, pollinator gardens, cover crops, as well as other geographical features of the area off the property.
"Bill [Kellogg] took a worldly approach to the idea of conservation," Prendergast said. "It wasn't just about what he could see or what he understood — he knew there was a bigger picture. With my background in marine biology, he and I frequently discussed how both of these jobs are integral to the health of the ecosystem, but are often considered distinctly different and separate realms of science."
As a follow-up to her externship, Prendergast plans on using soil chemistry, water quality and the concepts she learned about to create a board game of choices to improve water quality over time. It would implement measures that would be seen on Kellogg Farms, as well as other water quality management practices.
BASF
GNG teacher leader Jamie Brown got a close-up look at agriculture in Ohio this summer thanks to an externship with BASF.
Jamie, who teaches science and math at Miami East Junior High, spent her externship all over the state, from Lake Erie to Wooster to Troy.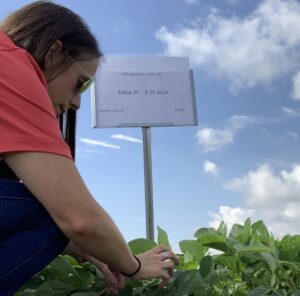 "My biggest 'a-ha' was realizing how many variables growers are juggling," she said. "I knew there were many components to farming, but I didn't realize how many different things can be affecting plant health. Farmers not only need to think about the products they're choosing to use in and on their fields each growing season, but also need to consider what has been on their field in the past, as well as what they're looking to grow in the future, their soil type, product availability, timing of application and so much more."
From this experience, Brown will be creating a claim, evidence, reasoning exercise focused on the variables that can affect plant health and yield. This will allow students to consider the many variables that play into keeping a plant healthy and producing high yields. "Often, the general public just sees it as the plant didn't get enough rain or it received too much rain, while in reality so many decisions and uncontrollable variables play into the yield of a particular field."
Stateler Farms
Another teacher leader, Chris Brown, a 7th and 8th grade science teacher at Glandorf Elementary School, also spent time on a farm. Brown worked at Stateler Farms in McComb, Ohio, where he shadowed Duane and Anthony Stateler. "I saw their hog operation, helped with equipment repair, got a comprehensive tour of the various water quality best practices they implement, and just experienced the unpredictability of farm life," he said.
"I already knew that 'farming' isn't just planting and harvesting crops, but to be able to see it and talk about it from multiple generations of farmers was something I can really take back to the classroom. A student who loves technology might not be aware of the amount of tech used in farming now from electronics in the equipment, to drones and fertilizer/nutrient application and beyond. I can tell them about all the careers connected to agriculture."
Brown will be creating a design challenge where students will create mini farm fields using paint trays and everyday products to create a model of one of the water quality best practices implemented at the Blanchard River Demonstration Farms, as Stateler Farms is part of this group.
If you are a teacher interested in participating in future externships or an agriculture-related business open to hosting teachers, visit GrowNextGen.org.