International Soy Conference Brings Major Buyers to Ohio Farms
November 16, 2022 Ohio Soybean Council
In August 2022, the U.S. Soybean Export Council (USSEC) welcomed international buyers and users of soy to the United States for Soy Connext — the global U.S. Soy summit, held in San Diego, California. More than 60 countries were represented, and the conference welcomed over 600 attendees.
"We're so glad to have had the opportunity to come together in person to strengthen relationships with U.S. Soy's international customers and industry partners," said Jim Sutter, USSEC chief executive officer. "During this year's forum we heard three recurring themes — we're in transformative and volatile times, supply chains continue to face challenges and consumers are calling for reduced carbon footprints and increased transparency. Soy Connext provides an excellent forum to collaborate so companies can leverage U.S. Soy's superior quality, reliability and sustainability in response to these challenges."
Soybean farmers Bill Bayliss of Logan County, Steve Reinhard of Crawford County and staff member Madi Layman represented the Ohio Soybean Council (OSC) at the event.
"The relationships built at events like these are very beneficial to the future of the soybean industry," said Bill Bayliss, OSC Vice Chairman. "Soy Connext showcased the quality crop grown in the U.S. and its numerous benefits to different regions around the globe. We got the chance to connect with buyers and other industry experts to learn about what we as farmers can be doing to increase the preference for U.S. Soy."
The agenda covered top-of-mind issues for those who work in the food and agriculture sector, with sessions on macro-economic trends, the shifting vegetable oil complex, freight and logistics, and specialty soybeans for soy foods. And the important topic of sustainability was embedded throughout the program.
Trade Teams Visit Ohio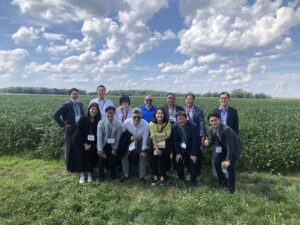 Also in August, 11 soy industry leaders from Korea visited OSC board member Scott Metzger's farm in Ross County. Metzger talked about his operation, U.S. Soy, sustainable practices, GMO and food-grade beans, government subsidies and his various leadership roles in the soybean industry.
"It's one thing talking about soybean production, it's another to see it in the works," Metzger said. "They had a chance to go out into one of our fields. They also asked important questions and I got the chance to pick their brains on what international buyers are looking for in bean quality. All in all, these visits benefit both the buyers and the producers."
This team also toured CGB's facility in Cincinnati, Rogers Grain in Covington and Bluegrass Farms in Jeffersonville.
Additionally, Trumbull County farmer Dan Schwartz and OSC Chairman Jeff Magyar of Ashtabula County hosted a Japan Tofu Future Team at Schwartz Farms in Northeast Ohio. The team consisted of 11 soy industry leaders from Japan. The team also visited the McHale Research Lab at The Ohio State University and heard about soybean breeding from Leah McHale and Alex Lindsey, Bluegrass Farms and KAPI in Marysville.
These visits give international customers the opportunity to assess the quality of Ohio soybeans and talk with Ohio farmers about their buying needs.