Soybeans on the move
The Ohio Soybean Council (OSC) is pursuing new opportunities for moving soybeans more efficiently and cost-effectively to domestic and international destinations.
With a unique combination of high-quality soybeans and world-class logistics infrastructure, Ohio is positioned to capitalize on these opportunities. To accomplish this goal, OSC is focused on involving the entire Ohio soybean industry, building new partnerships and providing timely and relevant information regarding transportation opportunities to Ohio's soybean farmers and other stakeholders.
OSC is constantly on the lookout for opportunities and threats facing farmers in their on-farm infrastructure. We are looking at farms from a manufacturing perspective to discover what farmers need to continue to be successful. Roughly 15% of agricultural production costs are energy-related. Effective and efficient on-farm energy infrastructure is critical to a farm's success.
For more information on OSC's support of on-farm infrastructure, please contact Barry McGraw at bmcgraw@soyohio.org.
Natural Gas Conversion Options may include connecting your farm to the local natural gas distribution system, extending existing natural gas service on the farm, or connecting to large transmission pipelines*.
*Though new connections to natural gas transmission lines (farm taps) are technically feasible, they are unlikely due to cost and willingness of providers.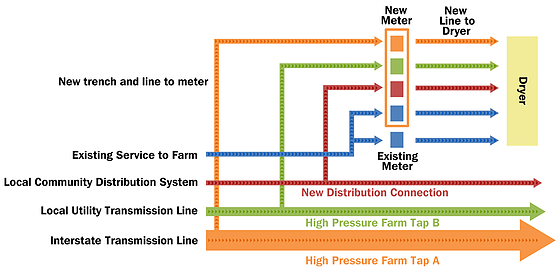 An Example Natural Gas Connection may include a new service connection to the local co-op distribution system, a new service line from the connection to the farm, new meters, and new burners for grain drying and barn heating.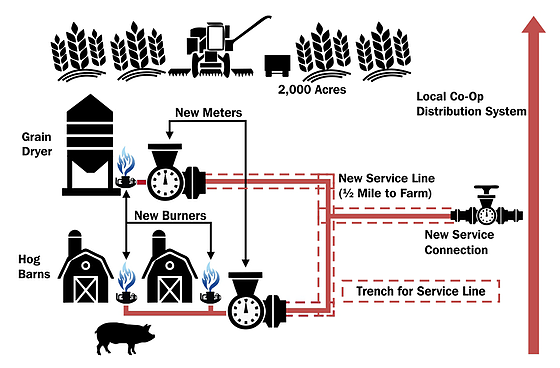 Costs & Financing for Natural Gas
Fact Sheets & Studies for Solar Energy
Worksheets & Tools for Solar Energy
Other Solar Energy Resources
Get information from your local extension educator. Talk to the OSU Extension educator for your area about solar energy considerations, available resources, and potential installers. Contact potential installers. If you decide to move forward with exploring a solar project on your farm, contact reputable installers and collect quotes for your project. Find installers at Green Energy Ohio, or Solar Reviews.
Precision Ag Reviews
OSC developed Precision Ag Reviews (PAR), an online tool to help farmers make informed decisions about buying precision ag equipment. PAR offers farmers a chance to review precision ag equipment, making the reviews by farmers, for farmers.